Metropolitan State University of Denver
Department of Earth & Atmospheric Science - Office SI2025
Campus Box 22 - P.O.Box 173362
Denver, CO 80217-3362

Phone: (303)615-0789
kackstae@msudenver.edu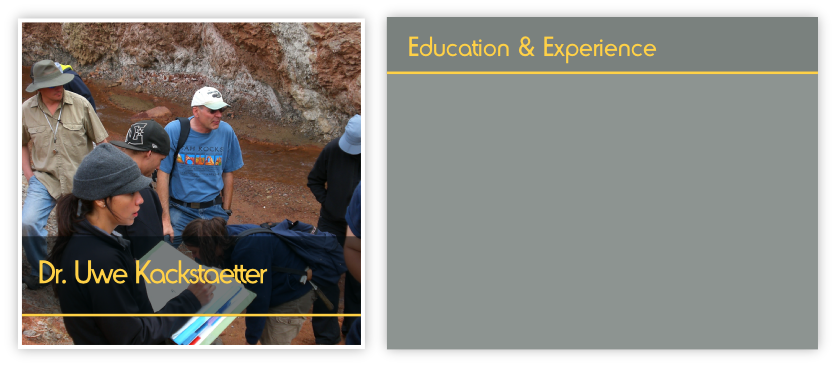 EDUCATION
Ph.D. (Dr. rer. nat.) Applied Geology / Mineralogy (2005), University of Würzburg, Germany (Summa cum laude)
Dissertation:Contaminant diffusion and sorption of an artificial leachate in selected geologic barriers of Frankonia, Bavaria, Germany
M.S. Geology (1990), Brigham Young University, UT
Thesis: Stratigraphy, Petrology, Geochemistry, and Diagenesis of the Early Jurassic Springdale Sandstone, Shivwits, Washington County, Utah
Secondary Teaching Certification (1988), BYU, UT
B.A. Geology (1985), University of Northern Colorado, CO
EXPERIENCE
Expertise and occupational assignments range from environmental testing of drinking water wells, groundwater flow modeling, site contaminant evaluations, geologic investigations, hydrologic reports, and much more.
Educator of over 18 years in college and secondary classrooms presenting courses in the field of Geology, Water, Mineralogy, Petrology, Geography, Oceanography and Physical Science.

Dr. K's current interests are in developing various practical approaches as advanced tools for the geosciences, such as field specific gravity testing, automated percolation testers, new wavelength dependent night prospecting tools, improved processes of rock and mineral thin sectioning, field portable cation chromatography and clay mineral analytical processing and computations.
Dr. K is an advocate for undergraduate research and involves his students in various meaningful projects both in Europe and the United States, which have yielded some exciting discoveries, such as a new, accessible kimberlite in the Colorado-Wyoming State line kimberlite district.
Dr. K is a faculty sponsor for our very active and award winning student geoscience clubs and has received MSU Denver's prestigious 2014 Faculty Teaching in Excellence Award. His current student involved research has taken him to Southern Utah where he is studying a very unusual precious metal Silver mineralization in a Jurassic sedimentary sandstone. He also leads various international geoscience fieldcourses to Europe.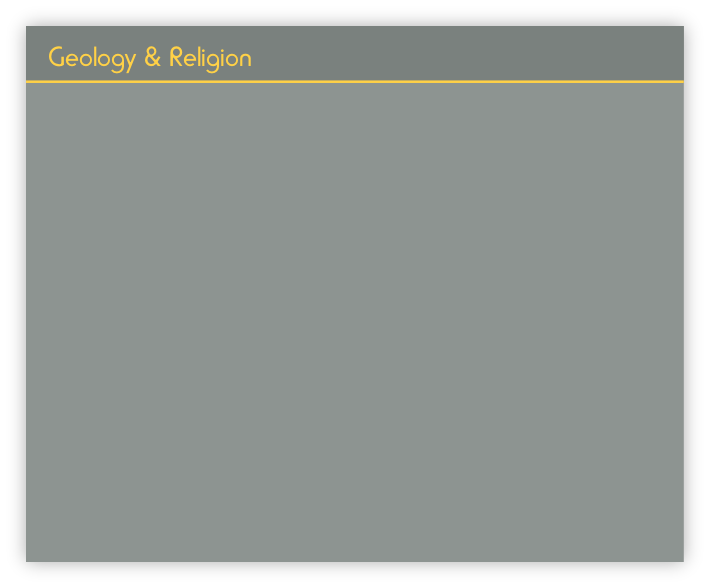 The topic of Geology and Religion is often highly contested, especially within Christian circles, sometimes ending in an argument of Geology vs. Religion. However, as I see it, true religion and true science never contradict, but compliment each other. In fact, for me true science testifies that there is a God in Heaven, and the science of geology is no exception. Here are some of my favorite quotes on the subject which align with my own convictions as a Christian and a Mormon.
"Within the gospel of Jesus Christ there is room and place for every truth thus far learned by man, or yet to be made known" - James E. Talmage
"In a general sense religion and science are trying to answer two different questions. The objective of the scientific method focuses on the 'how' questions of mankind, while the purpose of religion is to give meaning to our 'why'. Trouble rises when religion takes it upon herself to answer the 'how', and when science dabbles in the universal 'why'. - Unknown
"Our religion embraces chemistry; it embraces all the knowledge of the geologist, and then it goes a little further than their systems of argument, for the Lord Almighty, its author, is the greatest chemist there is."
- Brigham Young
"The study of science is the study of something eternal… If we study chemistry, geology, optics, or any other branch of science, every new truth we come to the understanding of is eternal; it is a part of the great system of universal truth. It is truth that exists throughout universal nature; and God is the dispenser of all truth – scientific, religious, … " - Orson Pratt
"And behold, all things have their likeness, and all things are created and made to bear record of me,
both things which are temporal, and things which are spiritual; things which are in the heavens above, and things which are on the earth, and things which are in the earth, and things which are under the earth,
both above and beneath: all things bear record of me." - LDS scripture Moses 6:63