Metropolitan State University of Denver
Department of Earth & Atmospheric Science - Office SI2025
Campus Box 22 - P.O.Box 173362
Denver, CO 80217-3362

Phone: (303)615-0789
kackstae@msudenver.edu


Undergraduate research is a vital part for a student planning to continue at a graduate institution. It is essential if international endeavors are anticipated since compatible bachelor degrees at European Universities and many US institutions inevitably require an undergraduate research project for graduation.
UNDERGRADUATE RESEARCH COURSES / CREDIT
- SENIOR EXPERIENCE -

About Undergraduate Research (UR)
Students interested in UR should enroll in the above mentioned course at the final stage of their research. All UR requires a finished tangible product, such a paper to be published in a scientific journal and/or a poster and/or oral presentation at a conference. GEL4970 will coincide and be part of MSU Denver's UR conference every May.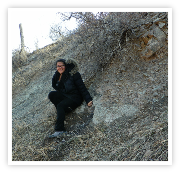 UR CONTRACT
All students enrolled in GEL4970 must complete a detailed and comprehensive UR contract with anticipated project timeline. The contract packet (pdf form) can be downloaded here.